Why is the sports bra is important?
When your body starts exercising, the breast is also moving, including up and down, left right, or even 8-glyph motif. Continuous repeating sports will cause sore pain, pain or even breasts.
The sports bra is a product developed to reduce this bad breast movement. There is no muscle in the breast, if there is no proper support, the chest skin may break and cause the breast sagging.
No matter how big your cup, each girl has experienced breast bomb in sports. Therefore, no matter how large the breasts, each girl should wear sports bra when running or exercise. According to different impact, exercise can be divided into:
Low impact walking yoga power training
Medium shock moderate hiking ski road bicycle
High impact running aerobic sports mountain bike
Classification of sports bra
1. Compressed motion bra, limits its activities by pressing the breasts on the chest. This bra has no distinguishing cup, which is very suitable for medium / low impact levels.
2. Packaged sports bras with separate cups. Each cup can surround and support the breast. Most ordinary bras are encapsulated bras and without compression. This bra is usually most suitable for low impact levels. The encapsulated bra can provide a more natural breast shape than the compressed bra.
3. Combined compression package sports bra combine compressed function with cups to provide maximum support for breasts, suitable for high impact motion.
In addition, there is a non-common bra vest, which is a pull-out vest with pre-installed bra, which is suitable for low impact, but is not suitable for medium / high impact sports bra motion, such as running.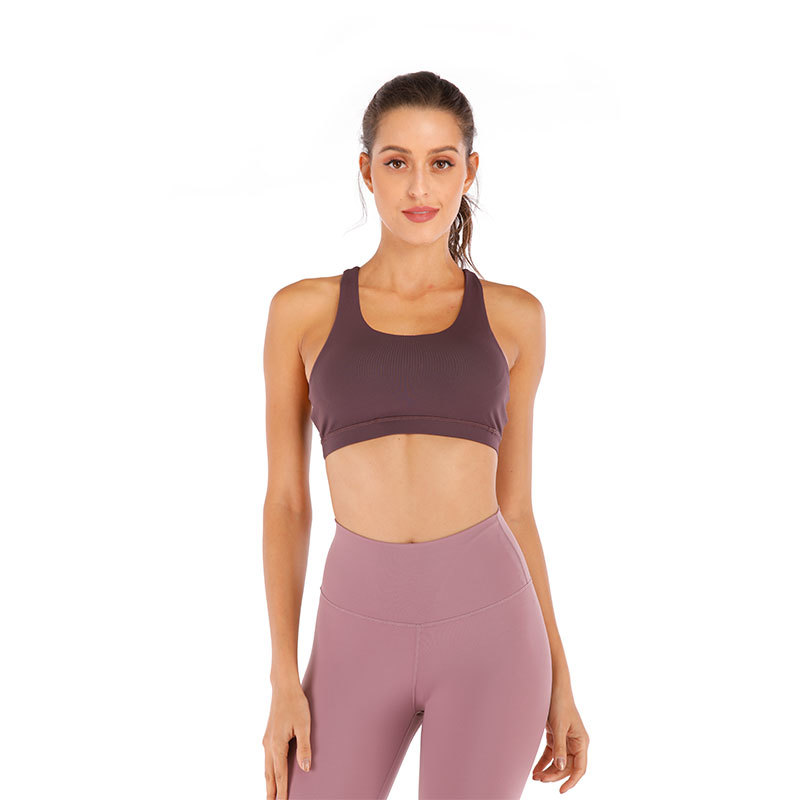 Classification of shoulder straps
Crossbeat strips, these straps are in terms of back, which is usually available to provide good support. Band is usually adjustable, according to different styles, cross-strand can be hidden under a sporty vest. Vest-type broadband, this strap style is most like a daily bra, and shoulder strap can be adjusted. The vest bra typically has a strap to provide a variety of ways and direction adjustments. Narrow back shoulder strap, narrow back shoulders form a y shape between the shoulder blade, provides a good support for more activities, but they usually cannot be adjusted, so the correct size is important. Generally speaking, the detid the support and protection functions provided by the finer shoulder strap. Narrow Belt can provide more support than cross-stranded and vest wideband.
How to choose a sports bra
First of all, can't be too tight, it can't be too loose. Too tight, you will breathe, there will be pain in the rib; too loose, there is no significance to the meaning of breast support and protection. The degree of elasticity should make you feel comfortable, properly do it deep breath. Shoulder straps when wearing sports bra should not move with your movement, this prove is too loose, and you don't want the shoulder strap to pull out traces in the shoulder.
The size of the cup should make the bottom of the sports bra or a cover of the cup with your ribs instead of the other parts of the body.
Most new sports bras use high-tech fabrics, including hygroscopic, and improve respiratory ability by elastic fabrics. Choose a dress that is suitable for you and sweat, you can bring you more sports fun.
If there is a chance, wear a sports bra, simulate your usual movement method, such as jumping up and down, feeling the effect of wearing.
Finally, a good sports bra should be able to persist for about 6 months to 1 year, or about 72 washing. When you find a sports bra, you should buy a new. Of course, you can also extend your life by purchasing and using special sportswear detergents, but if you have to spend more money to take care of a custom sport wear depends on yourself.